Erja marched to the beat of her own drum, experimenting with many fields until she found the versatile laboratory work
Apila Group's laboratory coordinator Erja Jaala has been described as the spirit of the laboratory, staying on top of day-to-day things. The characterisation given by co-workers feels nice. Erja has many irons in the fire in the workplace, as her responsibilities include coordinating laboratory work and laboratory functions, research method and product development, environmental analysis services, and the duties of procurement coordinator, chemicals manager, and occupational health and safety officer. However, Erja enjoys it the most when she gets into practical laboratory work.
Erja's primary area of responsibility is producing the laboratory analysis results. Everything starts with selecting and developing the right kind of laboratory methods according to the customer's needs. The chosen methods must also be tested and documented – it is vital to ensure that they produce relevant and correct results for the client. "It is largely teamwork," Erja emphasizes.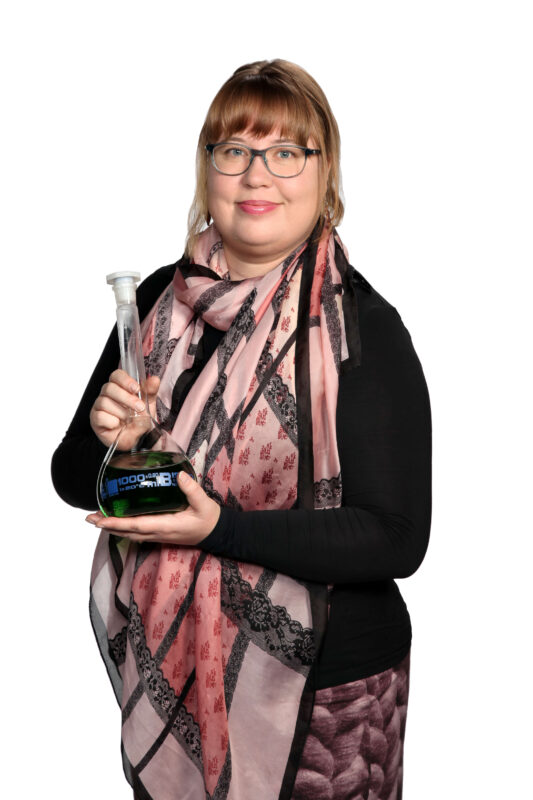 "It's always worthwhile to turn over stones – creative laboratory work"
This summer, Erja achieved a three-year milestone in Apila. She joined Apila in the summer of 2018 – Erja had graduated as a laboratory technician in 2017, and Apila was the first job to match her training. "It was a stroke of luck," Erja says as the job at Apila was not in an open search. "You should always turn over a few stones." You'll never know where the next job can be found.
"When I came to work in Apila, it felt great that even though I had just graduated as a laboratory technician, they saw potential in me, and I have been able to use my own strengths in my work." Erja says that in Apila the job description is shaped by the people.
Over the years, Erja's work in Apila has also experienced significant upheaval. "My areas of responsibility have increased. Partly based on my own interest, but also because there has been a genuine need to get it done." As a woman of action, Erja has taken up the challenge. One concrete change over the years has taken place at Apila's premises. "There's been a significant increase in facilities. At first, there was only one space. Little by little, we have conquered the whole building," Erja laughs, referring to the company's premises in Lehmo, Kontiolahti.
Erja appreciates the fact that at Apila, she has the freedom to coordinate her own work. There is a lot of variation in the work, and she can mainly plan the working days by herself.  In addition to laboratory work, Erja has also found a nice variation in financial management work.
Before studying to be a laboratory technician and coming to Apila, Erja has tried all sorts of things. In a way, her career has been self-searching. She also has degrees in business and administration and crafts and design. "You have to try everything. If I could decide again now, my study path could be different." In case she decides to continue her studies, Erja is interested in the degree of laboratory analyst. Now, however, Erja is satisfied with her current work. She has versatile tasks at Apila, and Erja has been able to use the skills she has acquired along the way. She also highlights creativity: "Many people are surprised that you can use a bit of creativity in the work of a laboratory technician. Craft skills are also important in lab work."
Creativity is a big part of Erja. Crafts, as well as visual and word art, are strongly present. Erja easily gets excited about new things and immerses herself in doing them to the fullest. In her free time, Erja enjoys improvisational theatre. Improvisation has been her hobby for eight years now. "Improvisation helps you discover new sides of yourself. Those skills can have an effect your whole life," Erja says.
"From words to deeds – method development for microplastics analysis"
Erja's motto is fitting for a woman of action: From words to deeds. "I want to start implementing quickly." Many things cannot be planned very far before you need to start testing them in practice. Erja describes herself as an "implementer" and says she agrees with Juha Timonen, Apila's material expert, about liking to get her hands dirty.
Erja's unique expertise in Apila Group is microplastics analysis. "There is a huge interest in microplastics now, and more players are coming to the field." Apila has been at the forefront of commercial microplastics research in Finland. The challenges they've had have been tackled one at a time. Since there haven't been any ready-made solutions, Apila has had to develop everything on its own. Because we deal with such small particles in microplastics analysis, cleanliness requirements have also been a significant factor to consider.
The most difficult moments in her work Erja have experienced in method development, when there is not always a point of comparison, you just have to do it yourself and decide. Fortunately, there is expertise in Apila's team, and by working together with the team, things tend to get clearer.
Erja is also good at seeing the big picture – even when there are many ongoing projects, transitions from one task to another and pacing the work usually happens smoothly. In addition to her own work situation, Erja can also see the team's workload. "Sometimes your own role in a project is to take care of some small area, such as sourcing supplies or performing single laboratory analysis, while in another project, the part may be more significant and require more profound expertise."
Her job description adapts to the project's needs, as each project and each client has their own needs. Erja is motivated by her own personal contribution to the work. "It's best when the project is ready, and the customer has a solution." At that point, seeing your own contribution to the whole feels great. In addition to customer feedback, team feedback is also important.
"You can't be set in your ways – future in the circular economy"
The circular economy means the future for Erja. "It's an inevitable thing, and it's good that people are starting to become more aware of it." Before coming to Apila, Erja had done a short course on the circular economy but didn't have a deeper understanding of it. While working at Apila, the circular economy has become familiar. "The industry has its own challenges, but fortunately, there are experts on the subject."
Erja promotes the circular economy with her own expertise by helping the customer. Material, product development and quality laboratory services concretely help customers transition to a circular economy and increase green chemistry in their products – the functionality of the solutions is ensured in the laboratory. There will be more work in the circular economy in the future. "You can't get set in your ways."
A lot is expected to happen in the circular economy in the future. How about Erja's own plans? "My plans form as we go along. You'll never know what will happen in the future," Erja replies calmly. One of Erja's most important priorities is improving in her work, whatever that may mean in the coming years. Erja sheds light on her principles: "No matter how the situations change, you have to have the ability to act and keep an open mind."
This was the 3rd part of the Apila staff presentation series. You can read previous staff presentations here:
Materials Specialist Juha Timonen is a fount of knowledge
Chemistry expert Tiina Rasilainen makes sure that the projects go like clockwork