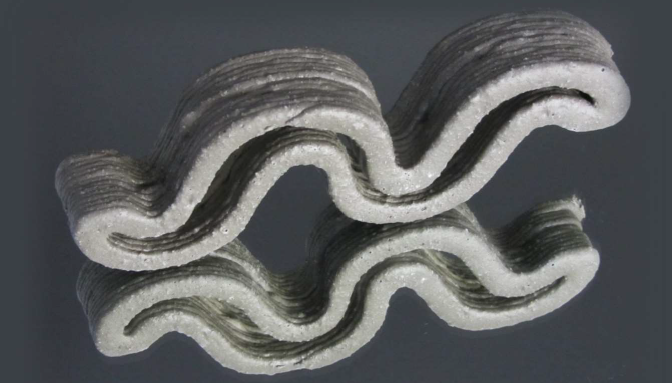 Gepocit® materials have up to 73 % less climate impact than concrete
Abdulkareem et al. conducted a life cycle assessment (LCA) study, comparing Gepocit® mixtures to concrete in various environmental impact categories, chosen based on their association with environmental issues related to concrete production. These categories measured fossil and resource depletion and emissions to air, water, and land.  
The study showed that Gepocit® geopolymers have up to 73 % lower global warming potential (GWP) than Portland cement. The reduction is mainly based on lower emissions during the manufacturing phase. Regarding fossil depletion, the best Gepocit® mixture has a lower fossil depletion value than Portland cement, by 76 %. Fossil depletion factor describes kg oil equivalent, and in the case of Portland cement, 70 % of its fossil depletion value comes from cement and 21 % from transportation. Gepocit® photochemical ozone creation potential is up to 83 % lower than that of Portland cement. Photochemical ozone creation potential describes the mixture's potential to create ground-level ozone. The last environmental impact category considered was the acidification potential, which describes the acidifying contaminants that cause a decrease in the environment's pH value. The overall best mixture of Gepocit® geopolymer had an 85 % lower acidification potential than Portland cement. 
Environmental effects are mixture specific
The results of different mix designs vary significantly due to the differences in the mixtures that resulted in varying durability (compressive strengths) and service life. When the compressive strength and service life (40 years) were used as indicators in assessing the environmental performance, the best mixture had equivalent or better environmental performance than Portland cement. This is due to the lower amounts of chemicals and virgin materials used and using additive manufacturing as a construction method. 
The results are part of a publication related to Mariam Abdulkareem's dissertation. Mariam Abdulkareem's dissertation Environmental Sustainability of Geopolymer Composites will be examined on December 3, 2021, at LUT University in Lappeenranta. 
Summary: Abdulkareem et al., Life cycle assessment of a low-height noise barrier for railway traffic noise https://doi.org/10.1016/j.jclepro.2021.129169