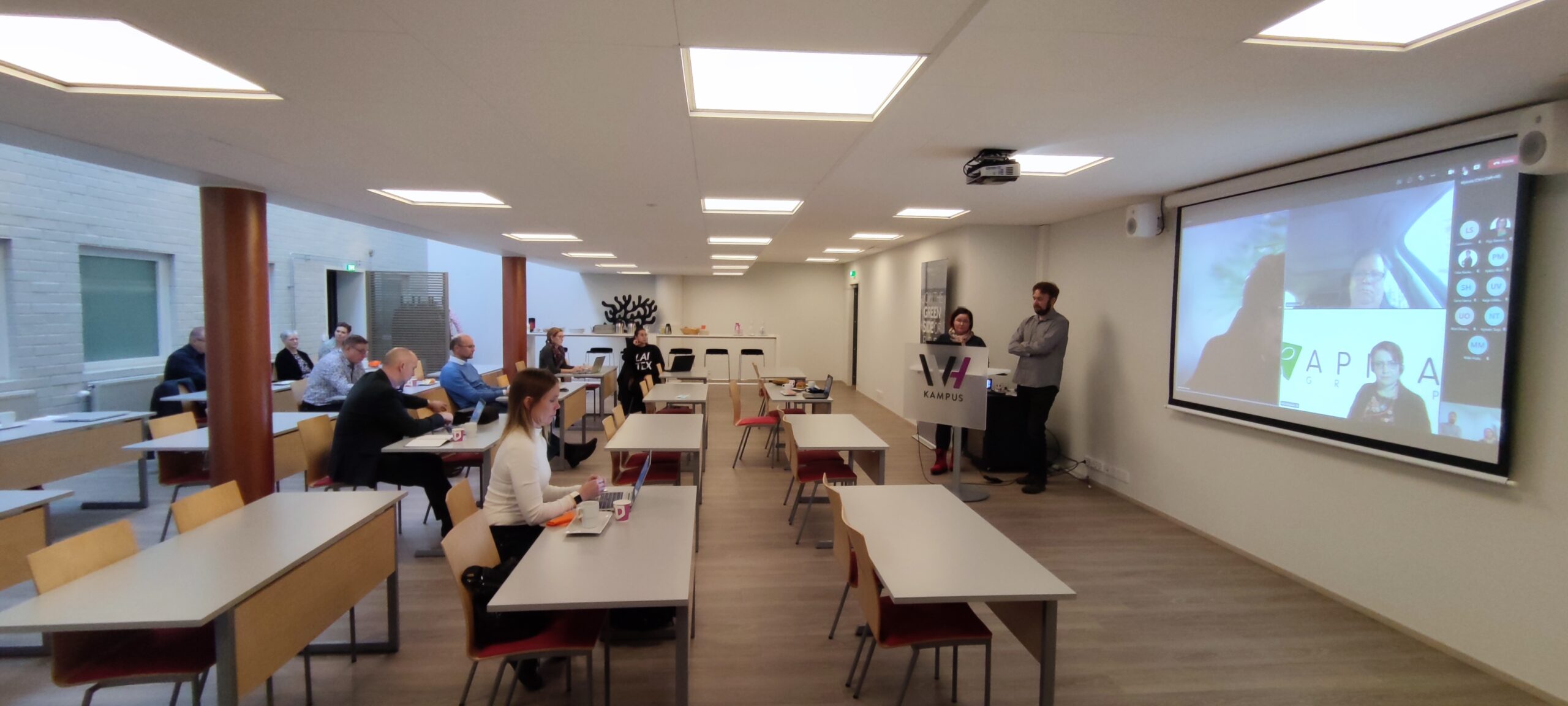 Long-term product development or a piece of cake? Sustainable product development and innovations were at the heart of the discussion at the Greenreality Network meeting hosted by Apila Group in Lappeenranta on the 11th of November 2021.
To kick-off the event, our CEO Mervi Matilainen presented the development story of the Gepocit® geopolymer composite towards premium material as an introduction to the ensuing panel discussion. The topic of the discussion was the development and introduction of the new in a changing operating environment. In addition to Mervi Matilainen, the panellists were Antti Määttänen, Director of Circular Economy at GRK Infra Oy, Jutta Nuortila-Jokinen, Industry Professor at LUT University, and Tuomas Hänninen, R&D Director at Lumir Oy.
The panel discussion focused on the roles of the academy and business in research and product development. In addition, the interlocutors commented on the duration and price tag of product development and changes in product development and innovation. There was a consensus that environmental concerns have gotten more and more companies involved in product development and innovation. On the other hand, the need for innovation has always existed and will always exist. Climate change and the circular economy have only affected the solutions sought through innovation.
Opinions on the appropriate duration of the RDI phase varied, and there was a heated debate about the differences between research and development. Sometimes a new product is ready in two weeks, while, for example, improving methods and processes, which is also RDI work, is an ongoing project in companies. In business, returns must always be visible, so companies cannot always invest in basic research. However, the line between research and development is blurred. And both have their place.
In the discussions, some panellists expressed a wish for an end to the term circular economy. There is still a long way to go to achieve a real circular economy, as there is still work to be done to close the loops. In addition to that, the processes can never be genuinely closed since you always must bring something from outside as well. However, the circular economy is a way to do things more eco-efficiently, and development must continue in that direction. Panellists agreed that the development would continue, with or without the term circular economy.
Finally, the panellists were allowed to present their RDI Christmas gift wishes to Santa Claus. Time, resources, and success in product development were added to the wish list.
We thank the panellists for an exciting discussion and the audience for insightful questions and comments!