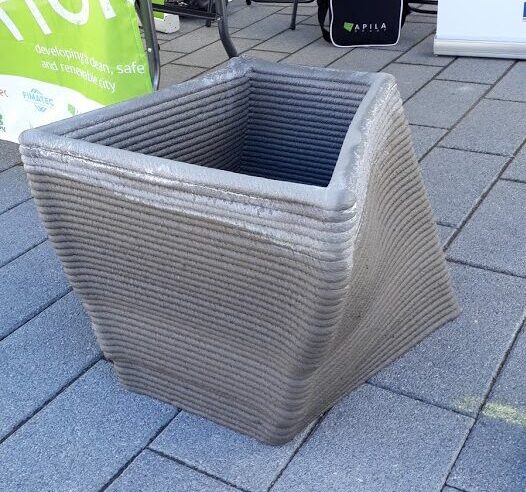 From an idea to execution.  Innovative and agile Apila Group Ltd developed the Gepocit® geopolymer material based on industrial sidestreams. The material is now used to build a noise barrier to guarantee Pontus School's students peace to study from the nearby train track's noise in Lappeenranta, Finland.
Four different rock-like geopolymer composite materials are used in the noise barrier. These materials contain various circular raw materials – sidestreams from forest and mining industries. The materials developed for the project consist of 62–100% of industrial sidestreams, and they can achieve a significantly lower climate impact than conventional building materials.
"In addition to the lower carbon footprint, we consider it significant that this material, a geopolymer composite, can utilise previously untapped industrial aggregates and ash in strong and safe end products. At the same time, we save the use of virgin sand and gravel," says Mervi Matilainen, CEO of Apila Group Ltd.
The Gepocit® materials developed by Apila Group are the first 3D-printable geopolymers in Finland. This opens new possibilities for the design and engineering of products and structures. The noise barrier of the pilot project consists of both casted elements and 3D-printed modules.
Constructing the noise barrier is part of the Urban Infra Revolution project. The project seeks urban construction and business development perspectives through material recovery innovations and respective solutions. The city of Lappeenranta led the project, and involved partners were LUT University and several companies and forest- and mining industries from the region.
Apila Group develops materials for the needs of industry, taking into account the end products' requirements.
The Finnish Public Service Media Company YLE reported on the noise barrier on 22 December 2019 and 15 January 2021. Links and news video in Finnish:
2021-1-15 https://yle.fi/uutiset/3-11739852
2021-1-15 https://areena.yle.fi/1-50659800
2019-1-22 https://yle.fi/uutiset/3-11120182
Picture: A 3D-printed module made of geopolymer composite. Similar modules are used in the noise barrier being built in Lappeenranta.